The Chakra Bunny Meditation

The following meditation should take between 15 and 30 minutes. It is intended to strengthen, heal and balance all of the 7 major Chakra Bunnies in the human energy system.

First, find a comfortable and quiet location. You can lie down or sit in any position that feels good. It may be helpful to play soft music or a nature sounds CD at a low volume, either with or without headphones. Some Fuzzies enjoy burning incense in the vicinity as well.

Let's begin... (click here)





---
The Inner Bunny Meditation
Coming soon! =:-)
---
The Lovebunny Meditation
If you haven't yet found your Lovebunny, don't feel discouraged. The meditation below can help connect the two of you, no matter where on Earth you may be =:-)
Important Note:

This is for the finding of your true Lovebunny, in the instance you have not yet met. It is

not

for making a specific person you happen to have a crush on fall in love with you! That simply does not work anyway. If you are right for each other, both of you will know it. This meditation is for connecting with your best Bunnymate (who may be in another state or even another country at the moment) as soon as it can be arranged by the Cosmic Bunny.


---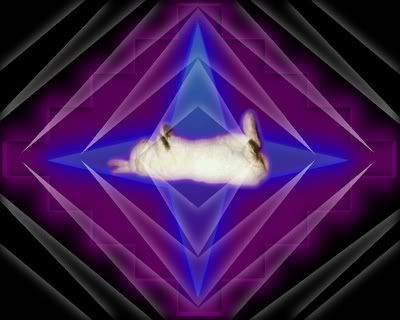 More coming in the next few months!
Church of the Cosmic Bunny - Join the Bunny Religion!