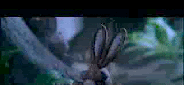 Just a reminder that this coming weekend (the 19th and 20th of April) is our monthly Bunny Full Moon Howling!

Bunnies out there already know what to do, but if this is your first Fuzzy Full Moon as a non-Rabbit, you may need a few pointers.

To celebrate with us as a human, simply do the following:

1) Put on your Bunny ears or mask
2) Gather a group of friends or relatives if you can
3) Go outside into the night
4) Howl at the moon (if you can't see the moon, pretend you can!)

It's that easy to add Bunnyness to your night! We can almost guarantee you'll feel exhilarated! Talk about this howling with as many others as will listen and, if possible, upload a video of you and your friends howling on MySpace or YouTube! The more Bunny ears seen, the better! It's a great monthly opportunity to spread Bunnyness!

Stay Fuzzy,
D.C.


Church of the Cosmic Bunny - Join the Bunny Religion!